International House of Sound Presents 3/26/14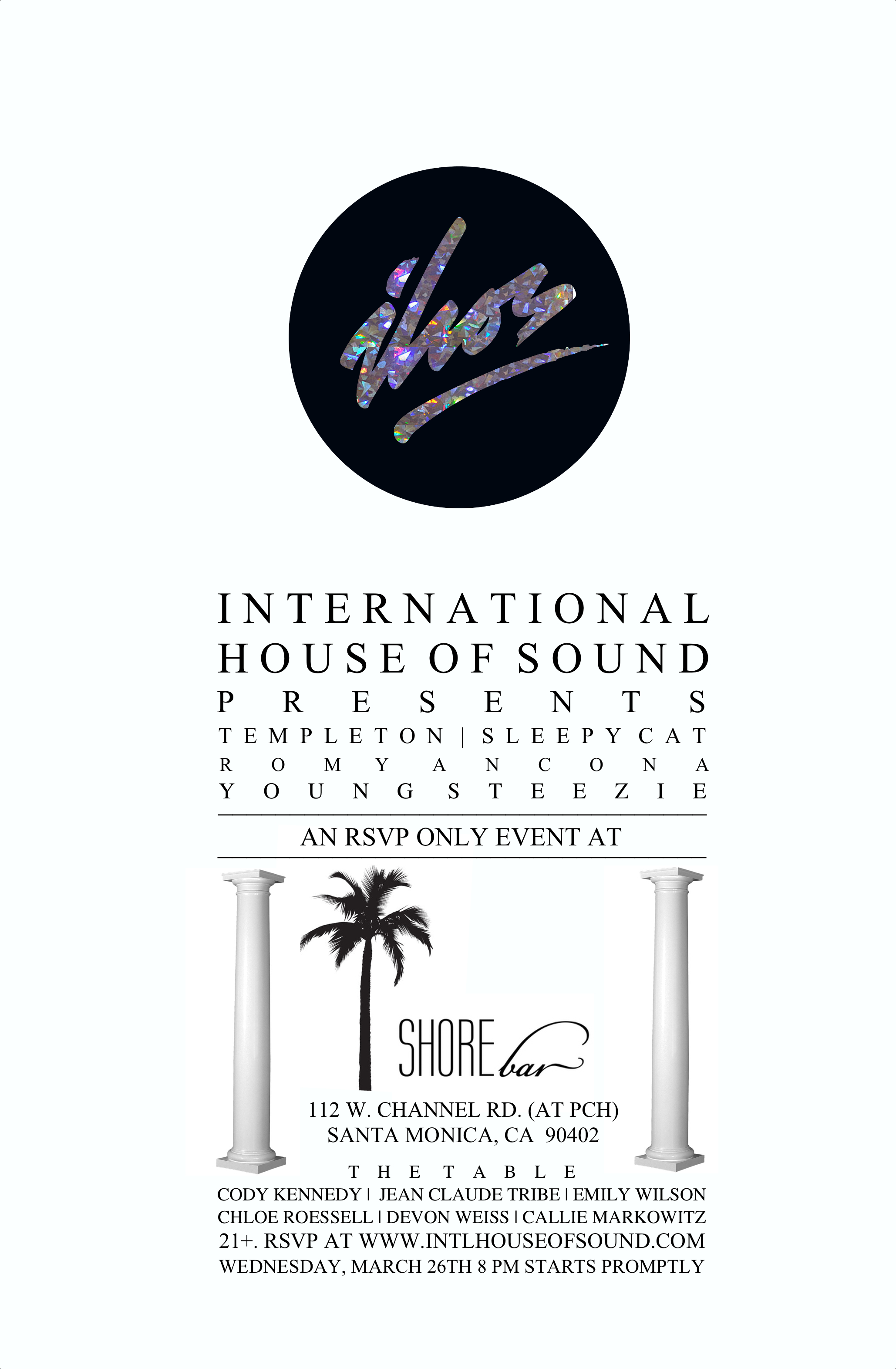 Picture a warm Spring night at a beautiful and intimate venue–placed just a few steps from the beach and PCH–filled with gorgeous faces and even more tantalizing sounds.  That's right, we're talking about our inaugural night of epic music coming from four of the hottest up-and-coming faces shaping the L.A dance scene: Templeton, Sleepy Cat, Romy Ancona and Young Steezie.  Below you will find a taste of what is to come from each artist and keep tuning into the blog from now until the night of as we get up close and personal with the names on our line-up.
The atmosphere: seductive, blissful… alluring. The soundtrack to your evening will be well worth the appearance.  We will have our eyes on you and you never know when our cameras might want to immortalize your image, so choose wisely.
Mark your calendars for Wednesday, March 26th and be there promptly at 8 p.m. and make sure you RSVP. And remember: you're in paradise… take advantage.  We look forward to seeing you there.
Templeton:
[soundcloud url="https://api.soundcloud.com/tracks/87217825″ params="color=000000&auto_play=false&hide_related=false&show_artwork=true" width="100%" height="166″ iframe="true" /]
[soundcloud url="https://api.soundcloud.com/tracks/129670980″ params="color=000000&auto_play=false&hide_related=false&show_artwork=true" width="100%" height="166″ iframe="true" /]
Sleepy Cat:
[soundcloud url="https://api.soundcloud.com/tracks/137763521″ params="color=000000&auto_play=false&hide_related=false&show_artwork=true" width="100%" height="166″ iframe="true" /]
[soundcloud url="https://api.soundcloud.com/tracks/112092012″ params="color=000000&auto_play=false&hide_related=false&show_artwork=true" width="100%" height="166″ iframe="true" /]
Romy Ancona:
[soundcloud url="https://api.soundcloud.com/tracks/94438976″ params="color=000000&auto_play=false&hide_related=false&show_artwork=true" width="100%" height="166″ iframe="true" /]
Young Steezie:
[soundcloud url="https://api.soundcloud.com/tracks/138581463″ params="color=000000&auto_play=false&hide_related=false&show_artwork=true" width="100%" height="166″ iframe="true" /]