IHOS Chats With: Jupiter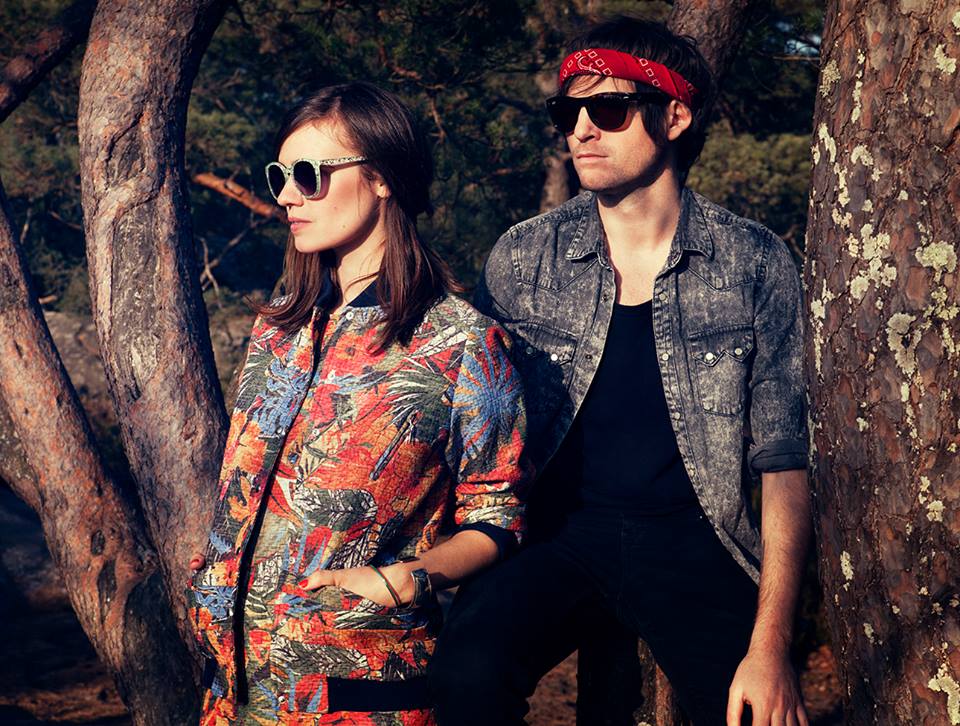 There's something to be said about tracks that can keep you on your feet and having a good time day and night. Anytime you see their name, they are lighting up the blogosphere with a killer disco glazed pop track. That's right folks we're talking about Jupiter, the uber talented French-English duo composed of Amélie de Bosredon and Quarles Baseden. Their special blend dance floor driven grooves have had a vice grip on our attention for quite some time now.
Since getting their start about 5 years ago, the duo has been going strong with a slew of hit after hit from Vox Populi, Starlighter and Saké (which would later make up part of their exquisite 2012 debut album 'Juicy Lucy') to the brand new "Do It" off their newly released 'Bandana Republic' album. We can't seem to get enough of their signature revamped disco grooves. We recently got a chance to ask them a few questions about their new label Persephone, new album and a bit about where they got their start.
Get to know this incredibly addictive duo as they set your speakers on fire with nu disco flair right after the jump.
IHOS: Let's start off by getting our fangirl excitement out of the way by saying you two are one of our all time favorite nu disco/ electro pop acts. How did you two get your start in making music?
Jupiter: At the time, we were both studying music in the same university. For certain assignments we had to record & produce original material but we enjoyed working together so much that we carried on beyond our studies. Within a couple of months we had written a number of tracks, but one in particular stuck out; it was called Starlighter and it sort of defined the early Jupiter sound.
IHOS: What was it about "Mama Used To Say" that helped birth the project known as Jupiter?
J: We got so much good feedback with Starlighter that we had a hard time following up: we simply didn't want to do a hundred Starlighters. We tried writing different tracks from scratch for a while, but what really got us started on new, diverse material was getting into remixing: sometimes you need a little constraint to express yourself creatively! After a couple of remixes, we thought covering a track we loved could be another nice, simple way to produce music within a limited frame.
IHOS: 'Juicy Lucy' was one of our favorite albums of 2012, how did the vision for that debut come about?
J:  'Juicy Lucy' actually features a handful of previous singles, some of which were never composed with an album in mind (e.g. Saké, Starlighter) but we simply couldn't leave them out. We always loved the format so producing an album was a dream of ours, so I guess we decided to build upon the vibe of these early works. This disco/pop vibe was what got us started in the first place, we just filled the blanks, still trying to be as diverse as possible.
IHOS: Who do you list as some of your major influences?
J: The Doors, The Beastie Boys, Chic, Daft Punk, Dr Dre, The Clash, the list goes on and on…
IHOS: How did L.A. (more specifically trips to the Californian desert) and Paris each provide creative energy for your new album "Bandana Republic"?  What is the meaning behind the album's name?
J: The western American landscape packs such an incredible amount of charisma that it's almost impossible not to feel inspired. It's a bit like cheating, you cannot not get something out of that environment. Paris has always provided us with enough tools to write material but at some point during the early writing process, it became difficult to feel anything new within that all too familiar context; hardly an ideal environment to write new, original stuff. Outsourcing our writing process to the other side of the planet provided the required soil to grow new ideas.The album name is a pun on the American brand "Banana Republic" and the piece of cloth you hang in your hair. One of the first thing I did in LA while I stopped for gas was to buy a bandana, hang it in my hair and I didn't take it off until I got on my flight back a couple of months later. So there you have it, we had just stepped into the Bandana Republic!
IHOS: Any plans for a tour in the coming months?
J: At the moment we're trying out our new live setup, so we're sort of experimenting with a few shows and giving ourselves enough time in-beween to adjust. We're actually a full live band now with drums, guitar, bass, synth and trying to combine the "acoustic" and the more electronic aspects of our music in a cohesive manner can get a little tricky…the more intense leg of our tour will start in September though. That's all I can say for now. Spoiler alert!
IHOS: If you could collaborate with anyone, who would it be? Are there any collaborations on the horizon?
J: David Bowie would be an awesome guest singer, don't you think? You can pretty much line up his vocals with any style, so that would be amazing. As of now, we're mainly focusing on fine-tuning our live shows but as soon as we get back in the studio we'll obviously consider collaborations.
IHOS: We are definitely looking forward to hearing what comes out of your new Persephone imprint! Has it always been a goal to launch your own music label?
J: More like a dream actually, when we started Jupiter even writing an album felt out of reach, let alone lauching a label. We like to stay in full control of our music, which isn't always possible when working with an outside label so we had to create our own. I hope we'll be able to put out other artist's material, in due time.
IHOS: Was there any part of the Greek myth that sparked your interest in the name for the label? 
J: Well, the mythological aspect of things is a recurring theme in Jupiter so it only felt natural. As a matter of fact, Persephone does sound more like a music label than a Greek goddess, doesn't it? Kinda like Parlophone…It works in several ways, we like that sort of things.
IHOS: Was this new album, website and label a reinvention or more of a continuation from where Juicy Lucy left off?
J: I'd say it's more of a continuation, we didn't feel like we needed to restart everything from scratch and we clearly had an imprint to somehow respect and build upon. Still, we put a lot of effort on trying not to redo the same things that worked back in 2013. As far as the label goes, it was just recently created, so it's clearly a new invention, rather than a reinvention 😉
[soundcloud url="https://api.soundcloud.com/tracks/195962464″ params="color=000000&auto_play=false&hide_related=false&show_comments=true&show_user=true&show_reposts=false" width="100%" height="166″ iframe="true" /]
IHOS: And finally, what are five tracks you can't live without at the moment?J: Jacco Gardner – Find Yourself
Tippy Toes – Heaven
Roland Tings – Who U Love
Stealing Sheep – Not Real
The Platters – My Prayer