IHOS Chats With: Jonas Rathsman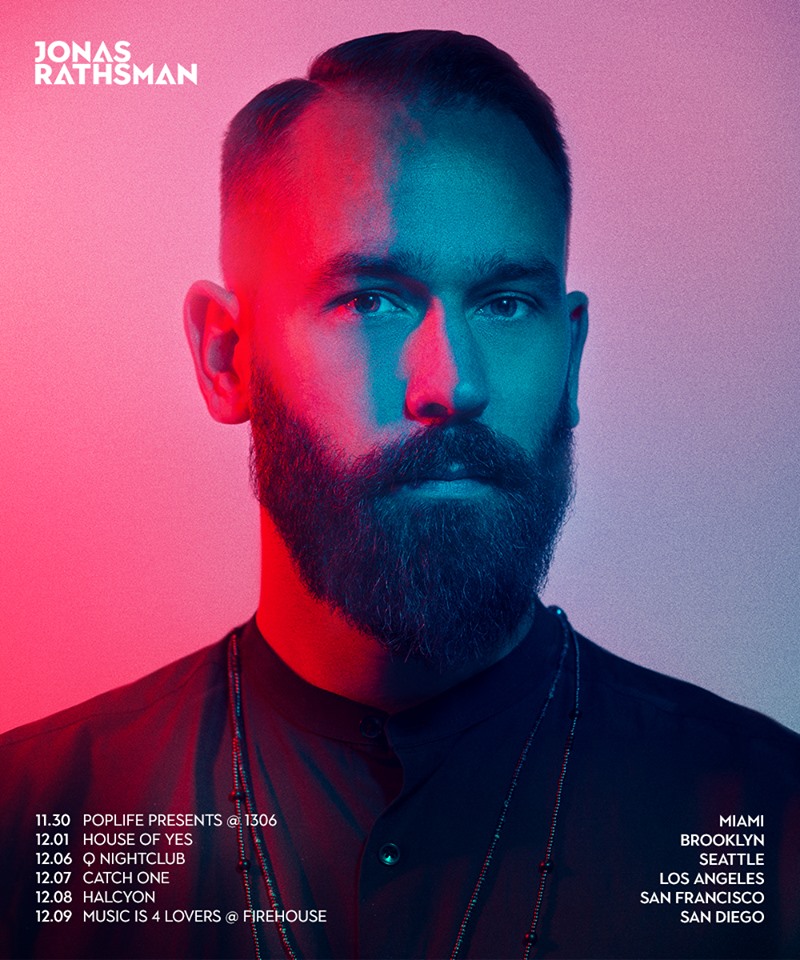 There's a stellar show lined up a week from tomorrow- Friday, December 7th at Jewel's Catch One. We're set to be graced by Swedish deep house maestro, Jonas Rathsman, as he's joined on the line up by his good friend Patricio for a night of pure, pulsing dance floor fodder that you definitely won't want to miss. As avid fans of Jonas since he first hit the scene with French Express, we've seen him evolve into starting own label and event series called ELEMENTS, and even starting/building a collective studio space for like minded artists.
We admire the way he is constantly learning and evolving his music and art in a way that stays true to his brand. So obviously, when we were given the chance to interview him we jumped on it! We talk to him about his new studio, his latest releases, upcoming projects for the new year. We also touched on his thoughts on making the scene more inclusive of female DJs and more. Catch the full interview after the jump along with the stream of his latest single "Lost Youth" that's part of Crosstown Rebels' second volume of their 'Spirits' compilation.
The is free before 11PM | 21+ RSVP: http://bit.ly/jrathsman
IHOS: First of all, congratulations on your new studio in Gothenburg. We're super impressed
to hear that you took a year off to build it by hand. Was it important for you to build it
yourself using sustainable/recycled materials?
JR: Thanks! It feels great. Me and my friend Jonas Quant were in desperate need of a studio, and
we decided to build something that had room for other producers and artists. We wanted to
create a space where you get inspired by other musicians on a daily basis, but also connect
people. We had a lot of help building the studio and it's not all in recycled materials. We felt an
obligation to use the massive amount of material that we found around the building. Probably
been there for years and it was ready to get thrown away. In some way we felt like it belonged
there and it was important to keep it but also felt like a fun challenge to see what we could make
of it.
IHOS: What is the music scene like in Gothenburg? How has it influenced your work?

JR: When it comes to the electronic music scene it's pretty bad tbh. I haven't played here for years
and that says it all really. More and more people are getting into it nowadays and I can feel it's
changing for the better. I hope it gets there!
IHOS: How has the location and the new space affected your creative process? What is your
vision for this new work space?
JR: It's amazing how much I've learned and evolved from day one in the new studio. We're currently
7 producers in the building and we've become very close friends. So having them around you
every day just makes life easier and more fun. You learn so much from each other and you can
get instant feedback or help if you're stuck. Also, all the rooms are acoustically treated so they
sound amazing which makes the creative process much easier, and you spend less time
thinking "does it sound good or bad?????"
IHOS: Speaking of creative process, you just released a new EP, 'Glades of Glory,' with the
folks over at Rebellion. This is the first project you worked on in the new studio. How
does this EP compare to the ones before it? Do you think your sound evolved since the
French Express days?

JR: I've evolved a lot since the French Express days which was 7 years ago, it would be really weird
if I hadn't. I think the biggest part is coming from playing gigs all the time and getting that insight
on what's working or not, and I think that process takes years to figure out. Then you use that experience and knowledge in your creative process when you're making music. I'm pretty flexible in my sound and that's how I want it. I would get bored very quickly otherwise.
IHOS: You mentioned in a recent interview that you would like more women to claim their
space in the industry. Who are some female DJs/producers that you are inspired by?
Would you ever collaborate with any of them?

JR: There could definitely be more female dj's around, we're all getting tired of lineups with men
only. You could blame organizers or promoters how much you want but we all play a part in it.
The industry is infected and we all need to take our responsibility to change this and make it
more equal. I think Öona Dahl, Miss Melera, Blond:ish and HAAI are all crushing it at the
moment, also love Maya Jane Coles, Black Madonna and Nina Kraviz and of course I would
love to collaborate!

IHOS: The ELEMENTS series is now a triple threat with a label, mix series and party series.
Was this always the direction you pictured it going in or did it develop organically?
Where do you see it going from here?

JR: It was kind of the plan all along. It started as a mix series some years ago but I've always
wanted to turn it into a label one day. Maybe it happened slightly quicker than expected. It's just
that I get sent so much good unreleased music for the mix series so it just felt very natural to
release it on ELEMENTS. We have some amazing mixes lined up for next year and we're
planning on doing a few more events than this year. I'm really excited for what's to come with
ELEMENTS!
IHOS: Sifting through all those tracks for each mix can be a daunting task, but you've clearly
struck gold each time. I wonder if you have any favorites. What are 5 tracks that you
currently have on repeat?

JR: BOg – Jahar (Mathias Schober Remix)
&ME – In Your Eyes
Nenahalena – La Ka Ruba
Soma Soul – Even Whales Would Cry
Kellerkind – The Smooth Operator
IHOS: You have a show coming up at the legendary Catch One venue on December 7th. Does
it take you long to prepare for live sets? What do you have in store for L.A?
JR: Yeah, I'm really excited about coming back to LA and play Catch One. I also have my good
friend Patricio playing with me which I'm looking forward to. I spend a lot of time preparing for a
set, usually they're all very different. You kind of have to because there's a lot of things to have in mind, are you playing early or late, festival or club, big venue or small venue etc etc… also, showing up prepared will make you feel less nervous and you'll probably have more fun.
IHOS: Do you have any upcoming projects that we should be marking our calendars for?
What do you have planned for 2019?
JR: I am in such a good place at the moment musically – so for me, I am going to just keep on
releasing the music I feel most excited about! We have some exciting ELEMENTS events plans
for May, so keep your ears and eyes open for that!!

IHOS: What nuggets of wisdom do you have for budding producers out there?
JR: I know everybody say this but stay true to yourself, and find your own unique sound. Don't try to
rush things, it will take time. Years and years. Always try and learn new things that can help
your creative process, and don't be afraid to ask for help. Surround yourself with other people
with similar goals or visions. Inspiration, inspiration, inspiration, it's everywhere not just in music.