IHOS Chats With: Cubicolor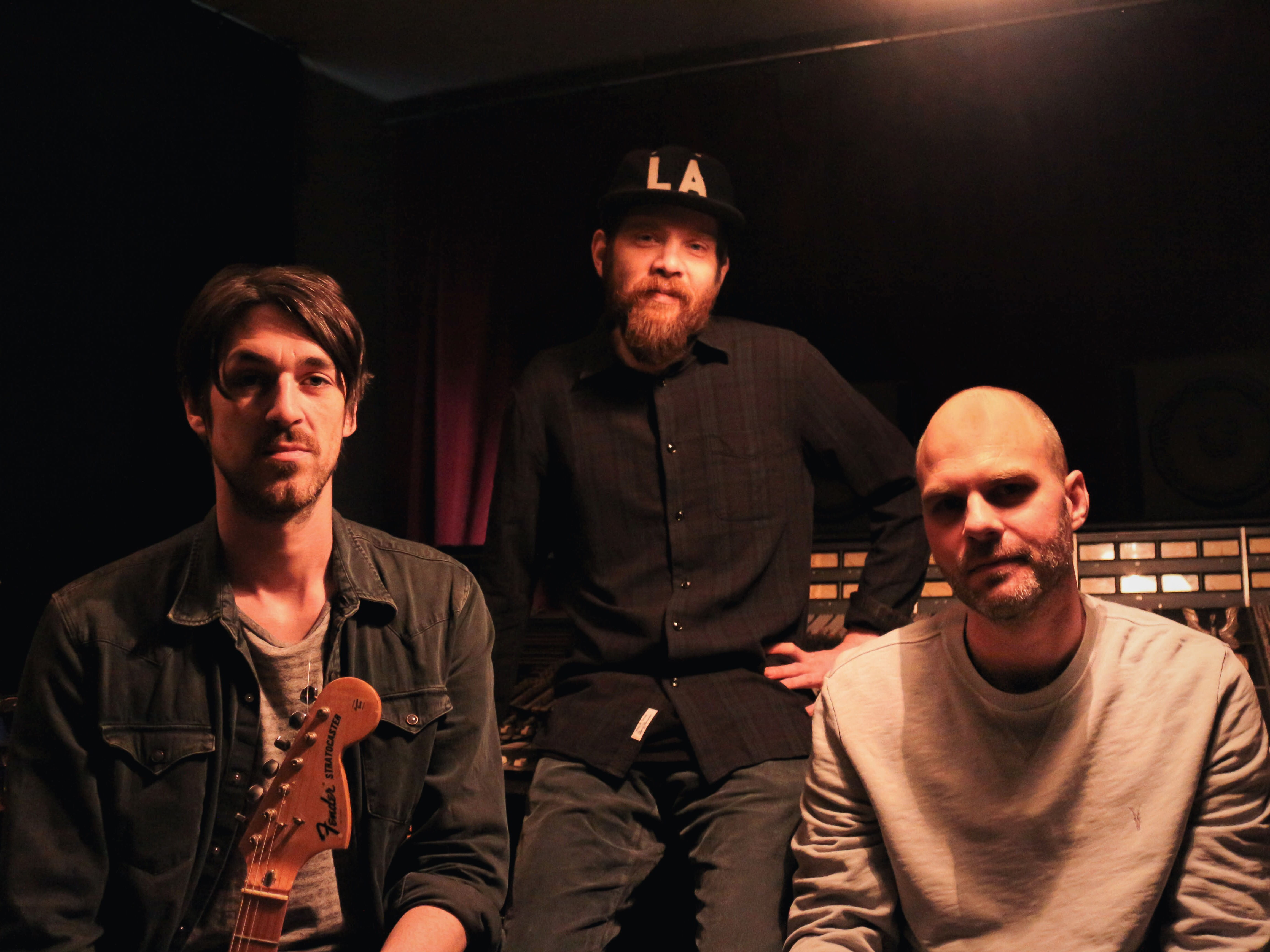 It's been a while since we had the opportunity to interview someone for our page. This next interview is with one of our favorite groups of the last two years. That's right folks, we're talking about Cubicolor, the Amsterdam based trio composed of Peter Kriek, Ariaan Olieroock and Tim Digby-Bell ! We've been following this group's musical triumphs since they hit the ground running through a mysterious introduction from the Anjunadeep family in 2014.
The taste-making imprint shared their remix for Depeche Mode and the rest has been a sonic ride with copious amounts of lush, deep and emotive soundscapes. With a string of stellar releases under their belt, the trio is gearing up to drop a debut album. We talked with them about their musical evolution up to now, the forthcoming album 'Brainsugar' and the addition of Tim Digby-Bell to the team! Catch the rest of the interview after the jump including some of our favorite tracks and the title track off the album set to drop on September 16th!
IHOS: I remember back in 2014 when you guys first hit the scene it was through an introduction/endorsement from Anjunadeep. How did that come about? Was it always a plan to hit the ground running with Anjunadeep?
C: We already had a good relationship with Anjunadeep through another project of ours, 16 Bit Lolitas, so it was a logical step to keep it in the family, so to speak.
[soundcloud url="https://api.soundcloud.com/tracks/216714829″ params="color=000000&auto_play=false&hide_related=false&show_comments=true&show_user=true&show_reposts=false" width="100%" height="166″ iframe="true" /]
IHOS: I also noticed that in the beginning identities were kept out of the spotlight and the music was all we had to go on. Was that a conscious decision to keep a bit of mystery behind the name?
C: Yes, we wanted to have the music do all the talking, without any prejudice. Also we didn't want the fact that we're all such good looking guys to interfere with how people would appreciate the music 😉
IHOS: There's also a new member in your group! Congrats to Tim Digby-Bell on joining the team! How did the relationship develop from collaborations to having him become the third member? Was it always a plan to have a third member, specifically a vocalist/songwriter?
C: We are very lucky to have found Tim. Once we found him we definitely didn't want to let him go. The collaboration felt very natural and effortless from the very first moment we worked together. Of course we could never beforehand be sure that we would ever find such a great talent and such an amazing person,
but once we did we wanted it to be more than a collaboration, so we invited Tim to join the band. So yes it was a plan to have a third member, but it was never a guarentee that we would find the right person. But somehow we did and the rest is history 😉
Tim: It was a really natural progression from the moment we started playing together. We quickly saw how easily we could get ideas going in the studio, how we were often on the same page without even really knowing each other at that point. It seemed a logical step to do more sessions and before we knew it, we had a record sketched out. For me a good creative partnership is finding someone who makes up for the things you lack, who has strengths where you're weak and vice versa. Playing music with these guys fills me with confidence, but at the same time it's immensely challenging and stimulating, so I was over the moon that we were going to be able to do more of it together.
[soundcloud url="https://api.soundcloud.com/tracks/237491096″ params="color=000000&auto_play=false&hide_related=false&show_comments=true&show_user=true&show_reposts=false" width="100%" height="166″ iframe="true" /]
IHOS: How has the addition of Tim changed the way you guys work on a new track? Is it challenging in a great way? How do you guys bounce ideas off each other?
C: We didn't have a fixed process to start with. When creating material we try to just be free. You can start a new track in many different ways. With Tim on board our focus was to create more song-based material, but we didn't see that as a challenge, the best music comes when you're just having fun and enjoying the process of creation. And yes we bounce ideas off each other all the time, its a completely democratic process where the best ideas win!
IHOS: From when you started up until now did you think your music would have the impact and support that it has? How do you cope with the attention? Does it affect your studio time?
Peter: The process of making music is what is most rewarding to me about this. To create something that wasn't there before, like this Cubicolor album we just finished, is very rewarding in and by itself. We made this music to reach people, to give them some comfort, some hope, some perspective maybe even some insight. Yes attention is nice, but reaching and touching people all around the world is more important to me than getting a lot of attention.
IHOS: Along those same lines, have you noticed a significant change or evolution in your music from that initial Depeche Mode remix to your latest single "Dead End Thrills" off the debut album?
C: Well yes. It took us a few moments to find out what the Cubicolor sound was going to be like. Of course when we made the Depeche Mode remix we didn't have Tim on board yet. We did have the global idea of wanting to bring more song based material in a more free electronic setting. But like with every good wine, we needed some time to grow the Cubicolor sound to maturity. The album is a solid step on the way to that maturity.
[soundcloud url="https://api.soundcloud.com/tracks/277631685″ params="color=000000&auto_play=false&hide_related=false&show_comments=true&show_user=true&show_reposts=false" width="100%" height="166″ iframe="true" /]
IHOS: Speaking of the debut album, September 16th couldn't come soon enough! I'm really looking forward to hearing 'Brainsugar.' Can you tell us a little bit about the process behind the album? Did you have any clear influences in mind while putting it together?
C: Between the three of us there are many influences. But I don't think we tried explicitly to sound like this or that. We just went where the flow took us. To be more free was one of the main things we wanted to accomplish with this album. These days its a big risk if you make music that doesn't sound exactly like other music that is already out there. But that is something we definitely wanted to do. Be more free, make music that comes from the heart and see where the chips will fall after that. We let our own creative fires be our main influence.
Tim: I'd come off the back of making two records with Duologue in London where I was very much leading the creative process and doing pretty much everything, so I was very happy to play with these guys in a free and open way and just see what happened. Nothing was forced, there were no set goals or preoccupations, it was just a some guys messing around on a boat. But very quickly we started writing music we were all excited by and before we knew it, we had the basis on an album which seemed to just appear in front of us. There was obviously a lot of work that then went into the final versions, but the beginnings of this project, when we were finding the ideas in the studio, were as natural and honest a process as I've experienced in music.
[soundcloud url="https://api.soundcloud.com/tracks/166760662″ params="color=000000&auto_play=false&hide_related=false&show_comments=true&show_user=true&show_reposts=false" width="100%" height="166″ iframe="true" /]
IHOS: How do you guys get started on a track? Is there a certain vibe or message you are trying to put out there with your music? Specifically with 'Brainsugar.'
C: Well yes, but I'm not going to say too much about that. That's for everyone to discover by themselves. All I can say is that I am very proud of the way the music, the lyrics, the melodies, the vibes came together on this album and formed a whole greater than the parts.
IHOS: How are you guys planning to celebrate the album drop?
C: We've already started working on the next album and preparing our live show to support this album. So there isn't really time for any big celebrations.
We celebrated a little bit the moment we finished the album. It took a lot of work to get it to where it is. But we're just at the beginning of fullfilling the potential of Cubicolor.
IHOS: This question is for all three of you, what is one record/song you could listen to anytime, any day.
Peter: Among my Swan from Mazzy Star
Tim: Music for 18 Musicians by Steve Reich
Ariaan: Hotel California
[soundcloud url="https://api.soundcloud.com/tracks/280881146″ params="color=000000&auto_play=false&hide_related=false&show_comments=true&show_user=true&show_reposts=false" width="100%" height="166″ iframe="true" /]