Essential Playlist Material III : Jeffrey Brodsky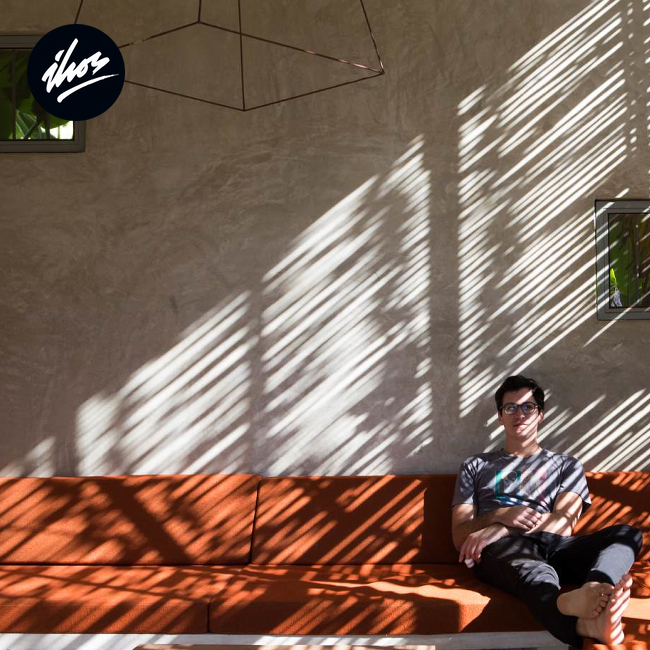 And our mix series rolls right along with installment number III.  This time around we wanted to tap into the musical stylings of Jeffrey Brodsky, formerly known as Jeffrey Jerusalem.  This local L.A talent made his mark on our radar with exceptional dance tunes at the beginning of last year. And he doesn't just draw the line at house, Jeffrey is definitely one to experiment and blur clear cut boundaries between different genres. His music in the past and now incorporates disco, techno, pop, experimental electro, jazz and never far behind is that keen sense of melody that has our bodies moving non-stop. When he isn't working on his solo project, you can catch him on tour as part of the live band for YACHT.
We knew right away that this prolific producer, remixer and performer had to be part of our mix series. One of the things we love about him is that he isn't predictable and this mix proves just that as he takes it in a darker, murkier direction. We also got a chance to exchange words with him to find out more about his sound, his latest projects and what we can expect from him in the coming months.  Stream the mix below and check out the interview and tracklist after the jump!  And get the mix for free here.
(Photo by Laure Joliet)
[soundcloud url="https://api.soundcloud.com/tracks/159874362″ params="color=000000&auto_play=false&hide_related=false&show_comments=true&show_user=true&show_reposts=false" width="100%" height="166″ iframe="true" /]
Tracklist:
J.D. Robb – "Excerpt From Spatial Serenade"
D.A.F. – "Der Rauber Und Der Prinz"
Arthur Brown & Craig Leon – "Conversation"
Rodion G.A. – "Alpha Centauri"
Actress – "Birdcage"
Huerco S- "Ragtime USA"
Mark E – "Smoke"
Wesley Matsell – "Rite Of Pant"
Cyclist – "Visions"
Martyn – "Empty Mind"
Awanto 3 – "Su What?"
Auntie Flo – "Hey Don't Make Trouble"
Cajmere (Feat Dajae) – "Brighter Days (Louie 39's Master At Work Mix)"
Gemini – "If You Gotta Believe In Something"
Leon Vynehall – "Gold Language"
Todd Osborn – "What Is Love"
Dense & Pika – "Colt"
Extra Produktionen – "The Mothership"
IHOS:  We stumbled upon your music back in the beginning of last year and "Never Let You Go" was one of our favorite tracks off your "Keep Shadows From The Sun" EP.  Back then you went by the name Jeffrey Jerusalem and since then you have made the switch to the name on your birth certificate, Jeffrey Brodsky.  What sparked that decision to switch monikers?
JB:  I'd been toying with the idea of making the leap for a few years. The name Jeffrey Jerusalem emerged as a joke but just stuck after a while even though I never loved it. It always felt like a fake moniker. I think putting out work under your birth name feels a little bit more serious and I guess I felt like it was time to grow up or something.
IHOS:  Now that you go by your mom-given name, does that mean we will also see a change in your music?  
 JB:  I feel like my music is always changing regardless. I love so much different music that I have a hard time sticking to one approach to writing or producing. It's actually really impressive to me that an artist can have a singular focus that allows for any album or collection of EPs to come off as aesthetically or stylistically coherent. I'm always distracted by new, exciting stuff I hear, and want to incorporate that into my music in a way that, for better or worse, changes my sound in some way.
IHOS:  You're originally from Portland right?  What made you decide to move to L.A?
 JB:  Not originally from Portland, but lived there for 5+ years. Portland is a great place but I got scared of getting older, and "too comfortable" in that town. A few things were happening in LA that made the move seem exciting and worthwhile. Since I'd been touring out of Portland for so many years there was no job or significant other or anything tethering me to that town, so I made the leap. Never looking back.
IHOS:  Apart from your original tracks, we noticed that you also do commercial work.  Is that an ultimate career goal or more of a side-business?
 JB:  Since I work from home, commercial work, for better or worse, is a great way to earn money. I can only speak for myself but I think a lot of people who sit in front of Ableton or Logic all day would get excited knowing something tangible will come out of their labor, i.e, a paycheck. Also, it can be fun and challenging to try new things without having to feel the onus of making my "Capital A Art". Like, if the commercial requires a ridiculous dubstep track, or a modern classical piano piece, its always a fun experiment to see if I can do it. It makes me a better engineer and producer. But the dream, of course, it to be able to make a living as an ARTIST first and foremost.
IHOS:  How did you get involved with YACHT?  Are you still touring with them?
 JB:  Yeah, I'm still playing with YACHT for sure! Jona and Claire are old homies of mine from when I was in college. There's a bunch of touring and new music in the pipeline with that crew so stayed tuned. I also drum with RAC. All good people.
[soundcloud url="https://api.soundcloud.com/tracks/80275661″ params="color=000000&auto_play=false&hide_related=false&show_comments=true&show_user=true&show_reposts=false" width="100%" height="166″ iframe="true" /]
IHOS:  How did you first get involved in making music?
 JB:  Like any idiot who wants to bang on drums and make hip-hop. Just do it. My mom's a music teacher, my dad writes musicals for kids, my older brother is in an all-male a cappella group and my little brother also makes tracks, so it was going to happen.
IHOS:  When we saw on our feed that you released a new EP we can't deny that we got a excited.  The title track, "I'll Be Strong", really did it for us.  Great job b.t.w.  How did this track and EP come about?
 JB:  Oh well thank you! Glad y'all dig. I love old school diva house so I just went for it. Also, 115 is a great tempo. I love making music that DJs want to play in the first hour, when the spot just opened and they don't feel the pressure to hammer the first few heads through the door with bangers. Deep shit, ya know?
IHOS:  What genres or artists fuel your music-making fire?
JB:  I listen to mostly Zheul and RIO in my spare time. You dig? Like, avant-garde French prog shit. Get into it. But actually I love it all. Have you heard the soundtrack to the ABC TV series Nashville? There's some legit good stuff on there.
[soundcloud url="https://api.soundcloud.com/tracks/158662577″ params="color=000000&auto_play=false&hide_related=false&show_comments=true&show_user=true&show_reposts=false" width="100%" height="166″ iframe="true" /]
IHOS:  What are some hot-spots you like to frequent around L.A?
 JB:  Ooooh, I'll eat at literally any cantina-style Mexican restaurant with a decent margarita. Also, I love Ramen. I thought Ramen was what college kids made in their dorms until I moved to LA. You guys are out in Malibu, no? What's good out there? I wish I knew more westside spots. Tell me your secrets!
IHOS:  Can we expect another release before the end of the year?
 JB:  Yeah! I was just making a list of all the stuff I want to finish. I've got two groovy house/techno EPs I want to finish, a more experimental synth EP, a space-disco concept record, and a lofi Krautrock project, I'm trying to get going. I've got a B-side on a MANI/PEDI Records release coming out in the next few months too. Trying to figure out how to finish all of this stuff in-between touring is causing a bunch of anxiety but I'll keep you posted.
IHOS:  Give us 3-5 words that describe the Jeffrey Brodsky sound.
 JB:  PEACE, LOVE, um….
Thanks guys! What's happening out there in Malibu? You throwing crazy beachside parties? Ever need a DJ? Holler!
[soundcloud url="https://api.soundcloud.com/tracks/74187080″ params="color=000000&auto_play=false&hide_related=false&show_comments=true&show_user=true&show_reposts=false" width="100%" height="166″ iframe="true" /]